Week 1 of the AEL High School Cup Divisional finals concluded over the weekend, it was evident that passion and skill were the driving forces behind each match. Schools are competing to determine who will finish in first place for each division before progressing into the State and National championships.
Super Smash Bros. Ultimate Showdown
The weekend kicked off with the Super Smash Bros. Ultimate top-16 double elimination bracket, leaving fans at the edge of their seats.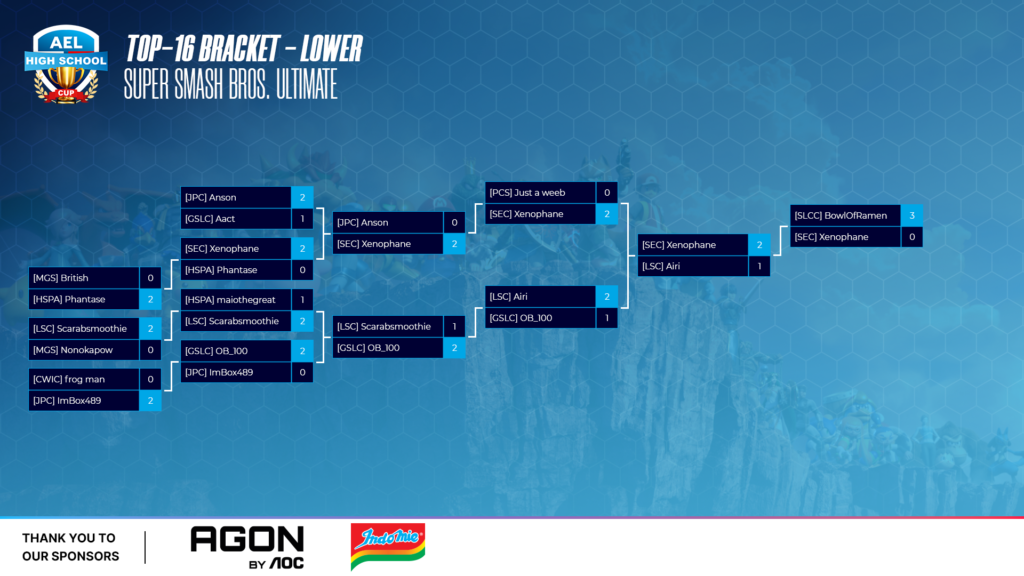 BowlOfRamen from St Luke's Catholic College emerged as the undisputed champion, taking down the Grand Final with back-to-back 3-0 sets. Following closely, Flame from CathWest Innovation College secured the second place, while Xenophane from St Edmunds College showed his prowess to clinch third.
Big congratulations to the following students for their final placement in the tournament!
1st Brent "BowlOfRamen" from St. Luke's Catholic College
2nd Daniel "Flame" from CathWest Innovation College
3rd Zachary "Xenophane" from St. Edmund's College
The consolation bracket for all those that did not make the top-16 finals will play out this weekend August 19th with the action playing out on www.twitch.tv/auesportsleague3
Consolation bracket: https://challonge.com/aelhsssbu23t3poconsolation
Overwatch – A Clash of Titans
In the Overwatch segment, both Division 1 and Division 2 played their top-4.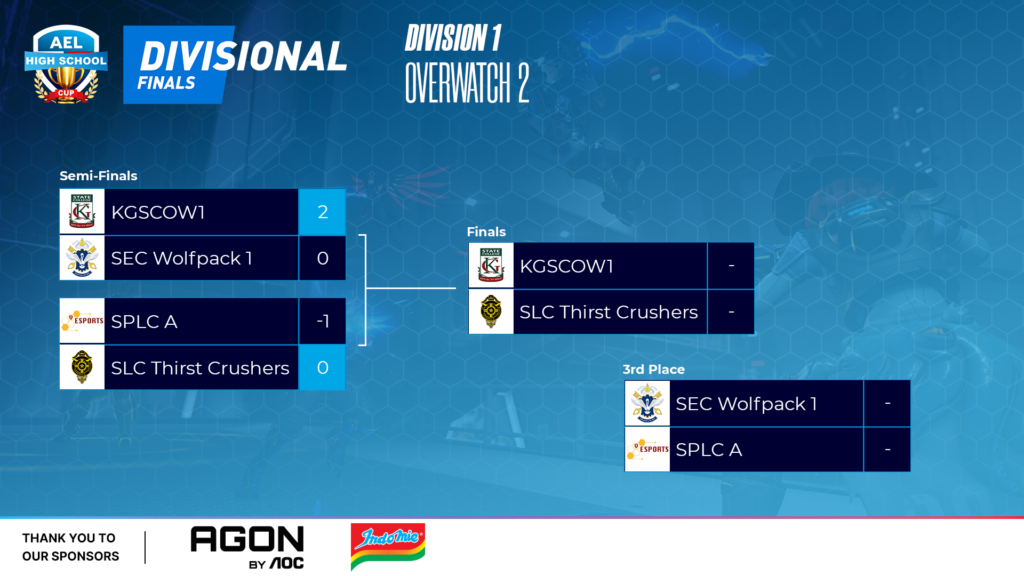 Division 1 was graced by a powerful performance from KGSCOW1 of Kelvin Grove State College, taking down SEC Wolfpack 1 from St Edmunds College with a clean 2-0. SLC Thirst Crushers from St Laurence's College advanced to the next stage due to a forfeit from SPLC A of St Peters Lutheran College.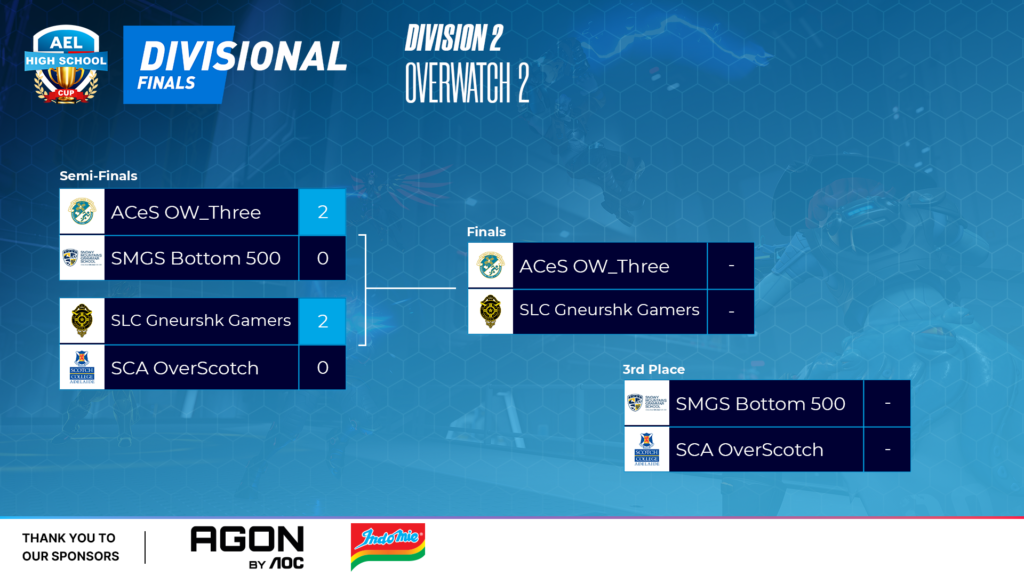 Over in Division 2, ACeS OW_Three from Albany Creek State High School dominated their game against SMGS Bottom 500 from Snowy Mountains Grammar School, concluding with a 2-0 win. Similarly, SLC Gneurshk Gamers from St Laurence's College made their mark by beating SCA OverScotch from Scotch College Adelaide 2-0.
Play will continue this weekend, August 19th live on www.twitch.tv/auesportsleague2
1:30pm AEST      OFF STREAM Division 1 3rd place match (St. Edmund's College Wolfpack 1 vs St. Peter's Lutheran College)
1:30pm AEST      OFF STREAM Division 2 3rd place match (Snowy Mountains Grammar School vs Scotch College Adelaide)
1:30PM AEST – Division 1 Final – KGSCOW1 vs SLC Thirst Crushers 
2:45PM AEST – Division 2 Final – ACeS OW_Three vs SLC Gneurshk Gamers 
Division 1 Finals bracket: https://challonge.com/bovu0yut
Division 2 Finals bracket: https://challonge.com/8v8e7kl7
Rocket League – Revving Engines and Soaring Goals
Rocket League, with its three divisions, had the top four from Division 1 and 2 competing with gusto.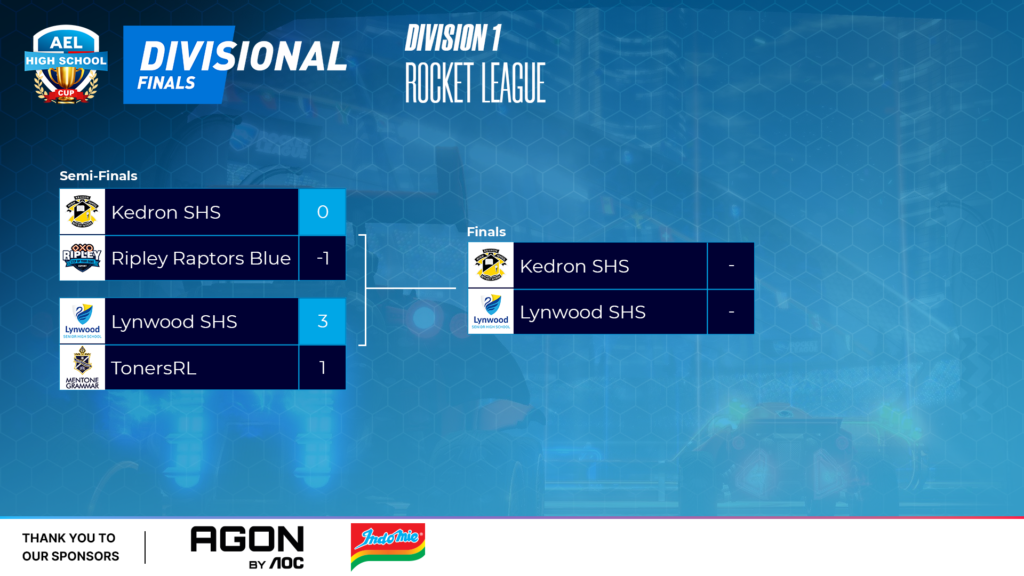 In Division 1, Kedron SHS from Kedron State High School effortlessly progressed after a forfeit from Ripley Raptors Blue of Ripley valley State Secondary College. Meanwhile, Lynwood SHS from Lynwood Senior High School displayed an impeccable game strategy to outscore TonersRL from Mentone Grammar School, with a scoreline of 3-1.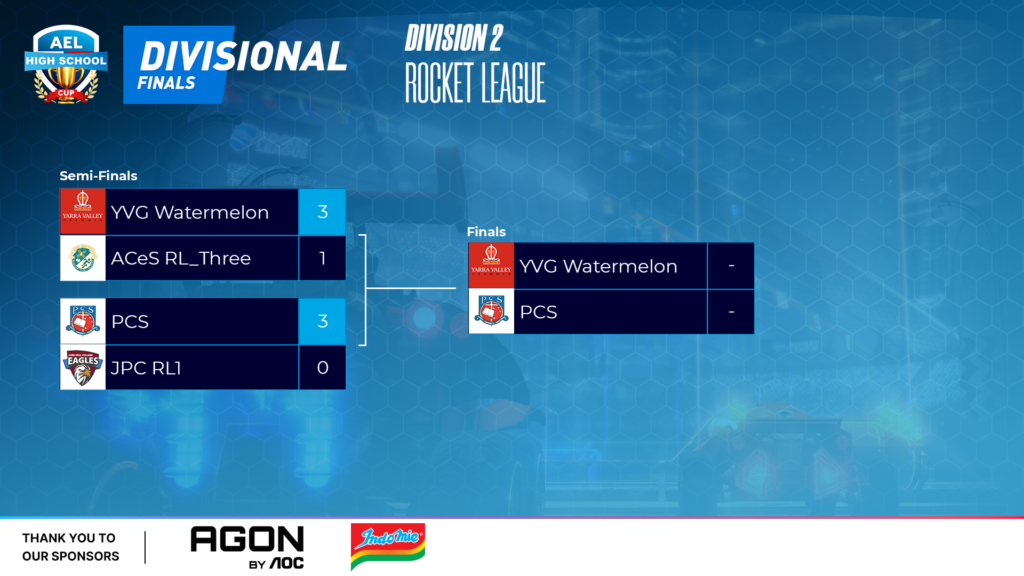 Moving on to Division 2, YVG Watermelon from Yarra Valley Grammar showcased their elite skills by beating ACeS RL_Three from Albany Creek State High School 3-1. Not far behind, PCS from Penrith Christian School showcased a dominant performance, trouncing JPC RL1 from John Paul College 3-0.
Division 3 to play this weekend followed by the grand finals of div 2 & 1
Division 3 Teams:
Trinity College Beenleigh Esports
John Paul College RL2
Whitebridge High School #2
Southern Cross Catholic College White
August 19th schedule is as follows, streamed on www.twitch.tv/RLOceania:
1:00pm AEST Division 3 Semi-Final #1
1:45pm AEST Division 3 Semi-Final #2
2:30pm AEST Division 3 Final
3:15pm AEST Division 2 Final (Yarra Valley Grammar vs Penrith Christian School)
4:00pm AEST Division 1 Final (Kedron State High School vs Lynwood State High School)
Rocket League Bracket: https://docs.google.com/spreadsheets/d/1iaI2kNEUWkREWBifB5LrO9lDNBiOGyzgpWZ-sH-R57Y/edit#gid=645281475
Thank you to all participants and to all the supporters of the league!