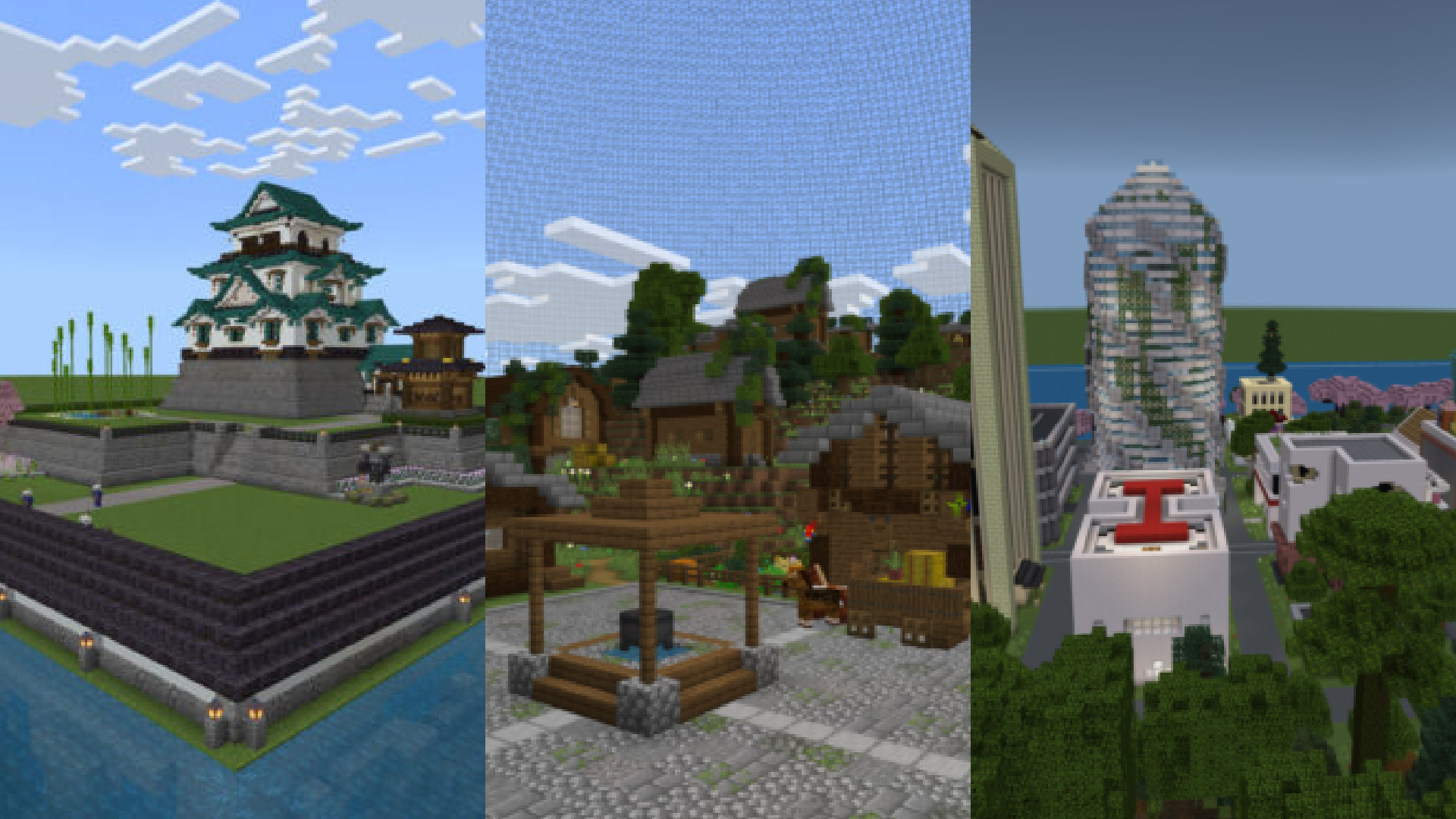 We're thrilled to announce the winners of the 2023 AEL Minecraft Competition! This year's competition saw an incredible display of talent, ingenuity, and a deep understanding of the themes across all age groups. Students across Australia from Year 5-12 showcased their skills in Minecraft, creating masterpieces in three distinct categories: medieval architecture, eco-friendly living, and sustainable cities.
Winning schools received a trophy for their students accomplishments with students receiving medallions and merit certificates for placing in the top 3. The student team with the overall best submission received a gamer pack comprising of RIG 500 Pro gaming headsets went to Alfred Deakin High School's Year 9 Team 2.
A Showcase of Medieval Marvels: Year 5-6 Category
The medieval architecture category challenged Year 5-6 students to travel back in time and recreate historical wonders. The creativity and attention to detail in these builds were nothing short of astounding.
Winners:
1st Place: GG's

School: The Knox School
The team showcased a medieval Japan shiro with a detailed castle at the centre with fortifications including moat and outer walls. The design shows a smart aesthetic approach to showing medieval life in Japan. The students went so far as to depict an invading force highlighting the tumultuous times.

2nd Place: Guacamole

School: Eltham College,
The submission shows a medieval town with castle, towers and town built into a mountainous setting. The students utilised different materials available in Minecraft to highlight different sections of the medieval life with a colourful market and chapel.

3rd Place: The Falcon Kingdom

School: The Knox School
The students showcased a popular castle design featuring a stone keep ringed with Balista, bailey, outer wall and draw bridge over a moat. The submission shows creative use of Minecraft to demonstrate different aspects of medieval life within a castle setting.
Innovations for a Greener Tomorrow: Year 7-9 Category
In the eco-friendly living category, students in Years 7-9 were tasked with designing living spaces that harmonize with nature. The entries displayed a profound understanding of sustainability and environmental stewardship.
Winners:
1st Place: Year 9 Team 2

School: Alfred Deakin High School
The winning submission showcased a detailed community with multiple houses and buildings demonstrating different applications of eco-friendly living. From regenerative building materials to renewable sources of energy and water the students showed a complex use of Minecraft to demonstrate eco-friendly living.

2nd Place: The Asian Investors

School: The Knox School
The students showcased a modern home that utilised natural light, multiple green energy sources, greenhouse garden and a creative use of Minecraft materials to provide a colourful demonstration of eco-friendly living.

Equal 3rd Place: Team 4

School: Cavendish Road State High School
The team presented a strong concept for eco-friendly living in a modern setting which is highlighted by a solar power system that track sunlight, vertical greenhouse garden, natural light and regenerative building materials.

Equal 3rd Place: 3d Terraria

School: The Knox School
The team built a town to demonstrate eco-friendly living applications across a variety of property settings. This incorporated green energy sources, harmony with nature, regenerative building materials and transport.
Envisioning Sustainable Cities: Year 10-12 Category
Our oldest participants, from Years 10-12, were challenged to conceptualize sustainable cities. The results were futuristic, practical, and showcased a visionary approach to urban development.
Winners:
1st Place: Emmanuel Gold

School: Emmanuel Catholic College
The submission shows a modern inspired city featuring a series of skyscrapers and multiple sustainable city initiatives on display. These include green energy initiatives, urban revitalization projects, vertical gardens, transportation, harmony with nature, waste management and community spaces.

2nd Place: Team 1

School: QLD Academy for Science, Mathematics & Technology
The students showcased a city built into the natural environment with greenery throughout and some creative applications of Minecraft materials to showcase concepts including an alternative green powered lift system. The submission is colourful and lively example of an imagined sustainable city that features regenerative building materials, a community in harmony with the environment, green power initiatives and more.

3rd Place: Team 2

School: Cavendish Road State High School
The students showcased a modern sustainable city with medium rise construction that depicts green energy, regenerative building materials, communal spaces, transport, food and waste management concepts. The submission features integration with the surrounding environment using different Minecraft materials to showcase a variety of biomes.
A Heartfelt Thanks to All Participants
We extend our heartfelt congratulations to all the winners and a big thank you to every student who participated in the 2023 AEL Minecraft Competition. Your creativity and passion for building a better world have truly inspired us all.
To see all submissions please visit www.ael.org.au/minecraft-results
As we close the chapter on this year's AEL Minecraft Competition, we look forward with anticipation to what the next edition will bring in 2024. This competition is more than just a showcase of Minecraft skills; it's a celebration of the boundless creativity and potential of our young minds. It's a testament to how technology, when combined with education and creativity, can foster a deeper understanding of important concepts like sustainability, history, and community living.
To schools and stakeholders who have been part of this journey, your support and engagement have been instrumental in making this event a resounding success. We encourage you to continue being a part of this innovative educational experience. To those who are yet to join us, we extend an invitation to be part of a movement that is shaping the way our students engage with technology and learning.
We extend a special thank you to the Mojang Studios, the Microsoft Education team and to our sponsors AGON by AOC and Indomie Australia for supporting the AEL's programs this year.
The AEL Minecraft Competition is more than just a competition; it's a platform for students to express their ideas, challenge their creativity, and contribute to a dialogue about our world's future. As we prepare for the 2024 edition, we look forward to seeing new schools, new students, and new ideas. Together, let's build a community that champions creativity, innovation, and learning.
Join us in making the 2024 AEL Minecraft Competition an even bigger success. Let's inspire, let's innovate, and let's create a brighter future, one block at a time.
The AEL are looking for educators and community members alike who are keen to participate in this growing initiative – please reach out to our friendly team at [email protected] to see how you can get involved.